Lamborghini Car Rental in Dubai - Drive the Supercar of Your Dreams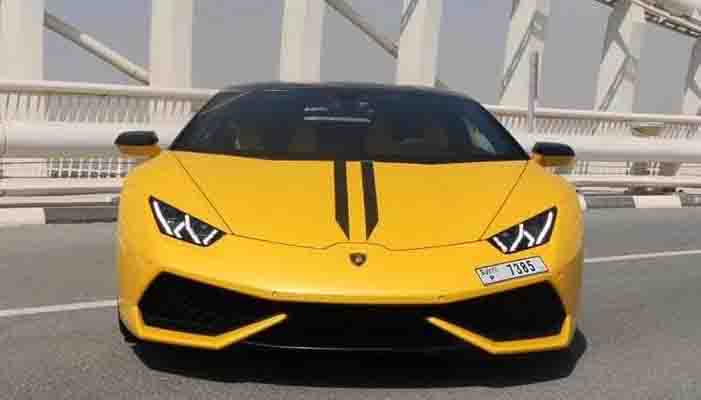 Lamborghini Car Rental in Dubai - Drive the Supercar of Your Dreams
Lamborghini Car Rental in Dubai
If you're planning a trip to Dubai, one of the things you might want to consider is renting a Lamborghini. Known for its luxurious and fast cars, Lamborghini is a brand that stands out among others in the automotive industry. And if you're looking to take a ride in style, Prestige Exotic Car Rental is the perfect place to go. In this article, we'll provide you with everything you need to know about Lamborghini rental in Dubai, so you can make the most out of your trip.
Why Rent a Lamborghini in Dubai?
Dubai is known for its opulent lifestyle and lavish surroundings, and it's the perfect place to rent a Lamborghini. You will be able to drive around the city but you can also be able to experience the performance and power of the world most iconic car in dubai. Plus, with the stunning scenery and wide-open roads, driving a Lamborghini in Dubai is an experience like no other.
What Models of Lamborghini Can You Rent in Dubai?
At Prestige Exotic Car Rental, we offer a wide range of Lamborghini models for rent. From the iconic Aventador to the sleek Huracan EVO, we have something to suit everyone's taste. Our selection of Lamborghini models includes:
Lamborghini Aventador

Lamborghini Huracan EVO

Lamborghini Urus
Each model has its unique features and characteristics, so it's worth taking the time to choose the one that's right for you. And with the help of our experienced staff, we can help you select the perfect Lamborghini for your needs.
How Much Does It Cost to Rent a Lamborghini in Dubai?
The cost of renting a Lamborghini in Dubai can vary depending on the model and rental duration. At Prestige Exotic Car Rental, we offer competitive prices for our Lamborghini rentals, starting at AED 2,400 per day for the Huracan EVO. The price of the car depend the duration of how much days you want to rent a car.
Luxury Car Rental in Dubai
Prestige Exotic Car Rental in best luxury car rent in dubai which provide best car for rent in dubai. You can hire a Lamborghini with best rental price in dubai. We are the Best Rental Cars in Dubai which provide luxury sports suv and economy car for rent in dubai.
What is the Rental Process Like?
Renting a Lamborghini from Prestige Exotic Car Rental is a straightforward process. We have made it simple so that you can focus on enjoying the ride. when you rent a car you need to provide you documents and for how many days you want to rent a car. you've made your reservation, our team will prepare the car for you, and we'll deliver it to your doorstep.
We also offer a range of additional services, such as airport pickup and drop-off, personal chauffeur, and additional insurance. Our team is always on hand to help you with any questions or concerns you may have, so you can rest assured that you're in good hands.
There are several Lamborghini models available for rent in Dubai, including the Huracan Evo, Aventador, and Urus. Each model offers a unique driving experience and features top of the line technology and engineering.
What is The Specification of Lamborghini ?
The Lamborghini Huracan Evo is a high performance sports car with a top speed of 325 km/h and a 0-100 km/h speed of just 2.9 seconds. The Features V10 Engine product 460 HP and advance Wheel Driving for traction and handing. The Huracan Evo is also equipped with advanced safety features and a state of the art infotainment system, making it the perfect choice for drivers who demand the very best.
The Lamborghini, on the other hand, is a true masterpiece of Italian engineering. Lamborghini Boost up to 6.5-liter V12 engine produce 700 HP which can reached to 350 kilometer per hour. The Aventador features a lightweight carbon fiber chassis, advanced aero dynamics, and cutting-edge suspension and braking systems, allowing it to deliver an remembered driving experience.
Looking for SUV Lamborghini Urus
For those looking for a Lamborghini SUV, the Urus is the perfect choice. The Urus also features advanced all-wheel-drive and torque vectoring systems, making it a joy to drive both on and off the road.
Regardless of which Lamborghini model you choose to rent in Dubai, you can be sure that you will turn heads wherever you go. Lamborghini will be your life time experience that drive with luxury experience.
If you're looking for a Lamborghini rental in Dubai, look no further than Prestige Exotic Car Rental. Our extensive selection of luxury cars includes a wide variety of Lamborghini models, from the sleek and powerful Aventador to the versatile Urus SUV.
Prestige Exotic Car Rental Providing the best quality of Renting Experience to their customer. Our fleet of Lamborghini cars is maintained and serviced to ensure that each vehicle is in top condition for your rental. We also offer flexible rental options, including daily, weekly, and monthly rentals, as well as long-term leases.
Our Lamborghini Fleets
Our Lamborghini rental fleet includes the latest models, such as the Huracan Evo and Aventador SVJ, as well as classic favorites like the Gallardo . Whether you're looking for a sports car for a weekend getaway or an SUV for a family vacation, we have the perfect Lamborghini rental for you.
If you Rent A Lamborghini from Prestige Exotic Car Rental in Dubai we will give you the best customer service from to rent a car to return the car. Our Most experienced team will assist you with all of your rental, from selecting the perfect vehicle to arranging pickup and drop off at the location where you wan to deliver the car. We also offer 24/7 customer support, so you can rest assured that we're always here to assist you.
Frequently Asked Questions
How old do I need to be to rent a Lamborghini in Dubai?

You must be at least 21 years old to rent a Lamborghini in Dubai, and you must have a valid driver's license and a credit card in your name.

Do I need to purchase insurance when renting a Lamborghini in Dubai?

Yes, insurance is mandatory when renting a Lamborghini in Dubai. This will help to protect you in the event of an accident or other unforeseen event.

is it possible to rent Lamborghini for rent in hour ?

Yes, many rental companies in Dubai offer short-term Lamborghini rentals, including hourly rentals. However, keep in mind that rental rates may be higher for shorter rental periods.

Is it difficult to drive a Lamborghini?

While Lamborghinis are high performance sports cars, they are also engineered for optimal driving and ease of use.

Can I rent a Lamborghini for a special event, such as a wedding or anniversary?

Yes, Lamborghini rentals are a popular choice for special events and occasions. Many rental companies offer custom packages and additional services, such as chauffeurs, to help make your event even more special.
Conclusion:
Renting a Lamborghini in Dubai is an Remembered experience that is sure to leave a lasting impression. With a range of models available, including the Huracan Evo, Aventador, and Urus, there is a Lamborghini for every driver and every occasion.
Renting a Lamborghini in Dubai is the Ultimate way to Make your Dream a reality. Whether you are lookin to turn heads on the streets of Dubai. Simply want to Experience the thrill of driving most iconic super car.
---
Leave A Reply
Your email address will not be published. Required fields are marked *